Fixtures and Displays

All of our fixtures are manufactured in the United States. They are designed to accommodate any of our Brands and are available with appropriate signage for:
Platinum Edge Bi-Focal Sun Readers
KnotMaster Bi-Focal Sun Readers
OTG-OverTheGlass
Shooter's Edge
In addition, they may be customized to compliment your stores' decor.

SC90
Rotating Floor Display
Three (3) sides
Total 90 Piece Exposure

Shown with RED Glo-Top
Shooter's Edge Signage 1-side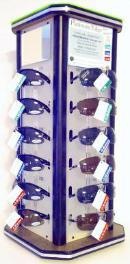 PE24
Rotating Counter Top Fixture
Four (4) sides
Total 24 Piece Exposure

Shown with GREEN GloTop
Platinum Edge product
Signage and mirrors

Our Oak Rotating Counter Displays can be customized with a variety of signage and mirrors. Just like a little piece of fine furniture, made in the USA.

CT24
Counter Top
Four (4) sides
Total 24 Piece Exposure